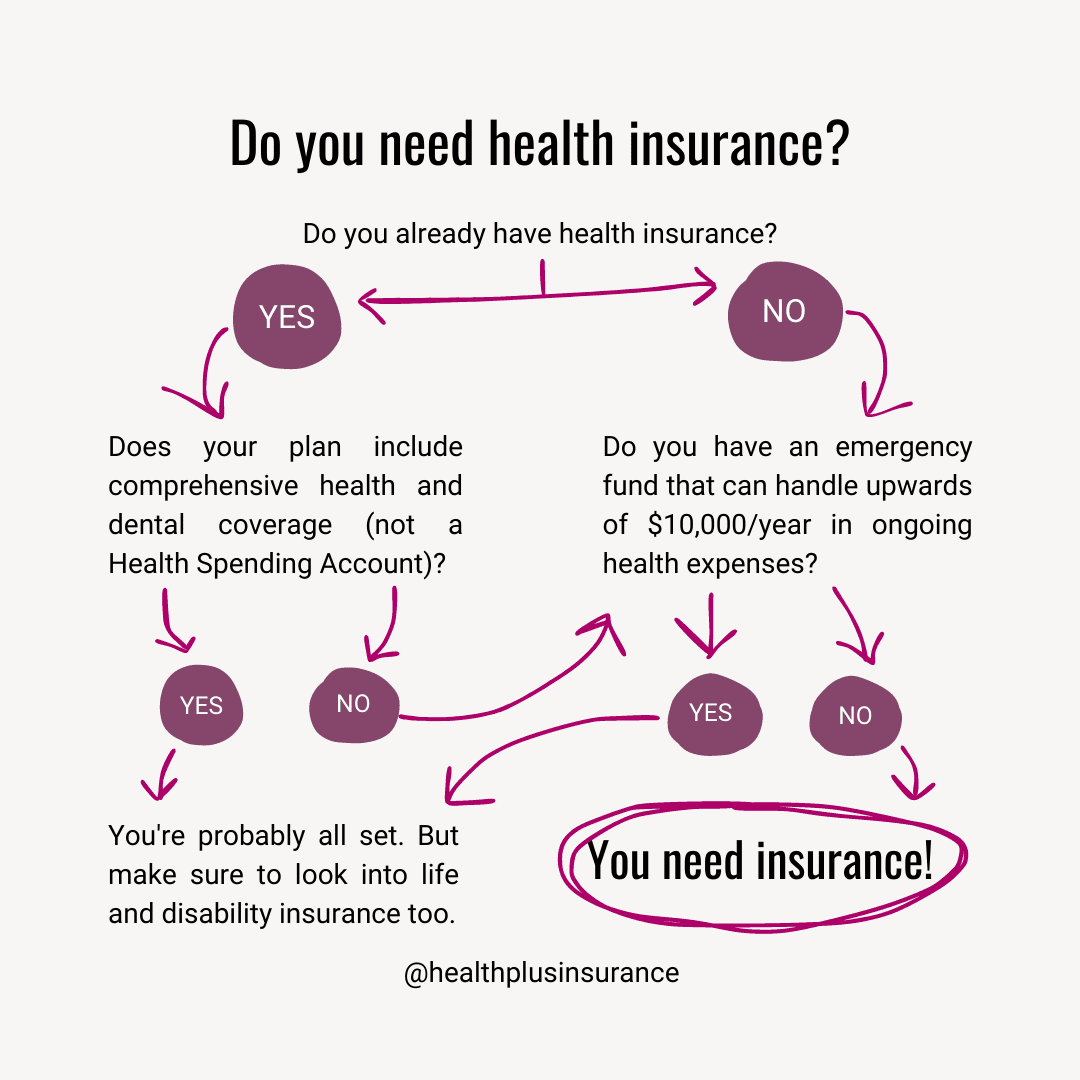 Do you need health insurance in Canada?
Do you need health insurance in Canada?
With an increasing number of Canadians starting their own business, working freelance, or entering the 'gig economy', many workers do not have health and dental benefits. If you're one of the millions of Canadians on their own for health insurance, you've likely asked yourself, 'Is private health insurance worth it?'.
While not a requirement, private health insurance is generally a good idea to cover what's not included in provincial coverage. Private plans can cover both routine expenses and protect you against the impact of large unexpected or ongoing health bills. As insurance advisors, we've seen the reality of medical bills, and always recommend a good plan. To come to your own conclusion about health insurance, here are a few questions to ask.
Do you already have coverage?
One of the most common ways to access health insurance is through an employer-sponsored plan, either your own employer or your spouse/partner's. Enrolment is typically automatic for full-time employees and may be optional for contract workers. If you have a good employee benefit plan, you're likely set. But, when you work for yourself, you're responsible for your own benefits. There are a number of ways to source insurance as an individual, including through a broker, an alumni or professional association, or direct from the insurance company. Make sure you have the best value option for you and if you do not already have coverage it's smart to look into.
To be clear, we're talking about insurance, not a health spending account (HSA), which is also a common employee benefit. While a great resource to help pay for routine expenses, a health spending account is typically quickly maxed out in the event of a serious incident or high ongoing expenses.
What's covered by provincial health insurance?
The more important question is what's not covered. Provincial plans vary across the country, but in general they do NOT provide working-age adults with coverage for prescription drugs, healthcare providers such as physiotherapists, chiropractors, or psychologists, vision, or dental care.
How much are you currently spending?
What you spend now on healthcare has a big impact on the insurance plan that is right for you. However, if you have few expenses now, don't make the big mistake of only considering current spending. If you have no large health expenses, it can be hard to gauge the value of insurance. But the risk of future health issues and the expenses that come with them is very real. Understanding potential future costs should factor into your decision.
Medically underwritten vs. guaranteed acceptance
The insurance that will be right for you is closely related to your current health expenses. If you have an existing chronic or serious health condition and corresponding expenses, a guaranteed acceptance plan is likely your best option. These plans don't ask medical questions and will pay for existing costs, which makes them a no-brainer for many people. However, if you have no or low health expenses, you will likely want a medically underwritten plan. After filling in a medical questionnaire you will save money on premiums and get better coverage. It's important to know that these better value plans are typically only available to enrol in when you're healthy. Learn more about what's right for you.
What is your risk tolerance?
Insurance is all about managing risk and being prepared for the unexpected. Unfortunately, the risk of developing a chronic health issue or needing other expensive healthcare is very real. 44% of Canadian adults have a chronic health condition, with many specialty medications costing upwards of $10,000 per year. Will you be financially able to pay for large, unexpected health costs out of pocket?
Of course, an emergency fund is always a good idea, but are you comfortable with the risk that it may not cover the bills for necessary healthcare? In contrast, health insurance provides a manageable monthly expense you can budget for.
If you'd like to get covered check out Health Plus plan options or get in touch to learn more and compare.